I'm trying to not eat any tomato for awhile, so making Lasagna requires me to switch it up … this works, it's not "as good" as regular meat sauce marinara kind of Lasagna.
Basically I used to do meat sauce, noodle, ricotta, mozzerella, meatsauce, noodle …. etc.
Because of wanting to delete the tomato out of the recipe, I looked up white lasagna and using an aspect of Classic Lasagna from other sites, a Bechamel with cheese in it added directly on top of the ricotta layer, then meat, then mozzerella … the order changes and there is an addition of moisture … so I just browned my ground beef, onions, garlic, basil, oregano and beef base and some water (not much.) No meat sauce. Just meat. Hmm.
Always starting with meat sauce on the bottom in the past, I started with my just meat on the bottom. It's messier, crumbly, so I'm thinking some bechamel on the bottom first would work, but didn't try that.
I found following the new order of ingredients, I fit my Lasagna into the usual dish without overflowing, and no extra watery drippy anything in the oven. It smelled wonderful and was wonderful.
I only have a picture of it before going into the oven.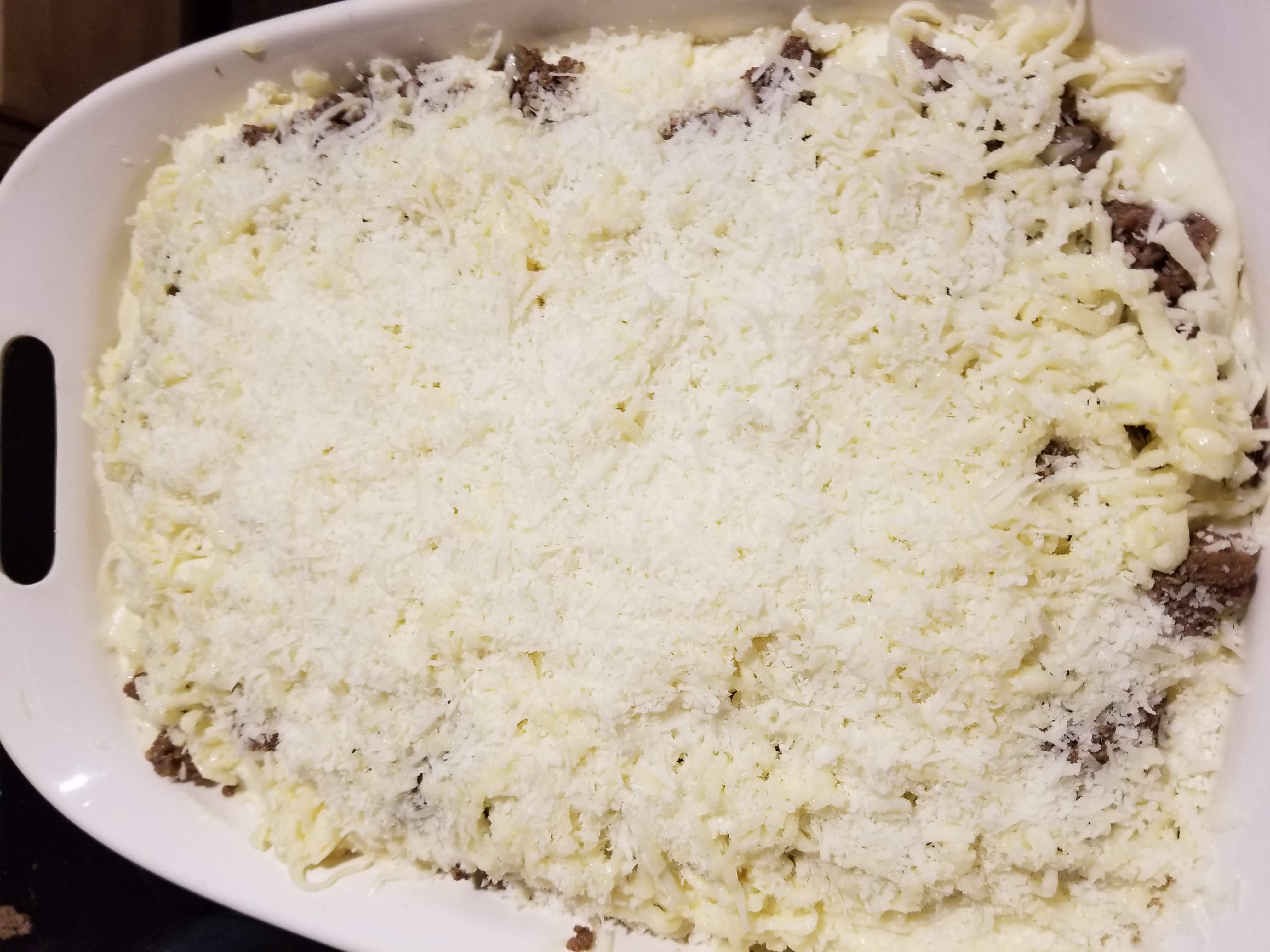 For the Meat (Seasoned Browned Ground Beef):
2 lbs Ground Beef
1 Onion, diced
3 Garlic Cloves, finely minced
2 tsp. Basil, dry
1 tsp. Oregano, dry
For the Bechamel:
3 Tbsp Butter
3 Garlic Cloves, finely minced
3 Tbsp Flour
2 Cups Milk
1/2 Cup Grated Romano
Melt butter, add garlic, allow to cook for a few minutes, add flour, combining with the melted butter, adding more butter or more flour to make a consistent mix as needed. Once bubbling for a couple of minutes whisk the milk into the flour mixture, and bring to a simmer to thicken, stir/whisking frequently. Add the cheese, mix well.
For the Ricotta:
Add the Ricotta into a bowl, add 1 egg, mix well. Add 1/2 Cup of Romano Cheese.
16 oz. Ricotta Cheese
1 egg
1/2 Cup Romano cheese, grated fine,
Assembling the Lasagna
Ready to Bake Lasagna Noodles
2 lbs Seasoned Browned Ground Beef
2 Cups Mozzarella, grated
2 Cups Bechamel with Garlic and cheese.
Extra Romano, grated, to add where ever you choose, on top of the mozzarella layers, for instance.
Put some of the meat on the bottom of your dish. Next place as many noodles as you can, no pre-cooking varieties aren't as messy, just dry fit them as best you can, break off ends to fit, overlapping is fine too.
Then layer on Ricotta, Bechamel, Meat, Mozzarella, Noodle; Ricotta, Bechamel, Meat, Mozzarella, Noodle;Ricotta, Bechamel, Meat, Mozzarella.
Bake at 350 degrees F. for 35 to 45 minutes.